It's no secret that American fast food is one of the great cultural exports the United States has given the world(right next to crippling obesity). Sad as that might be, Americans are defined by our fast food and the world seemingly loves us for it. Among the brands that have done the best job of redefining itself to suit the local palette is KFC. Their inventiveness and world's universal love of fried chicken has allowed it to offer up pretty unique offerings that we generally don't find stateside.
RELATED: INDONESIA, WHY IS YOUR BREAKFAST FAST FOOD BETTER THAN OURS?
Canada
Triple Decker Chicken Sandwich
Three, count 'em, THREE pieces of hand breaded chicken whose sole purpose is to slay your hunger.
Big Boss
At first glance, it looks vaguely familiar. Almost like a chicken version of the Big Mac. I mean, just look at the description given on the website
"Two stories of hand-breaded, seasoned chicken fillets topped with cheddar cheese, lettuce, onions, pickles and KFC®'s signature sauce on a toasted triple layer sesame bun."
Consider us sold.
Russia
Bigger Sandwich
For all you carnivores, not only do you get a slamming piece of fried chicken but this bad boy is also topped with pieces of beef. It is what Putin eats for breakfast.
Brazil
The Corn Philly
Philadelphia cream cheese infused with corn bits and slathered on top of fried chicken? The calorie count must mean this sandwich is amazing.
Picture Source [foodbeast]
Korea
The Zinger Double Down Maxx
With not enough words in its name, the Zinger Double Down Maxx sandwich is a breakfast offshoot of the American version of the same sandwich.  Instead of a beef patty, a hash brown is wedged in the middle of all this. Frankly, I don't know what work I could possibly be doing after eating this for breakfast. Probably operating heavy machinery.
South Africa
The Tower Burger
Hash brown, a slice of cheese and tomatoes. Probably the healthiest thing on this list and I use the term "healthiest" in a very loose context.
The Hawaiian Burger
Like with any bastardized interpretation of Hawaii, it must have a slice of pineapple on it.
Hong Kong
Korean Fried Chicken
Wowsers! I hear Cathay Pacific is running some pretty awesome flight deals right now for SFO to HKG for under $600. It might be worth it to go to Hong Kong just for this.  Also, does anyone see the irony in KFC Hong Kong selling Korean style fried chicken?
Elbow Macaroni in Tomato Soup with Roasted Chicken
Thanks to Anthony Bourdain, the world now knows that Hong Kong has this unexplained love for elbow macaroni in tomato soup. Like a bastardized version of fusion cuisine(if that is even possible), this is the kookiest thing we've seen on a KFC menu.
Flava Roast Burger
Anything that they've made a fictitious boy band to promote must be good. I think I found my new song to sing the shower.
Czech Republic & Croatia & Hungary
Qurrito
Looks like a fried chicken quesadilla… which is the best idea I have heard today.
Thailand
Shrimp Donut
Shredded shrimp molded into a donut shape. My gut tells me we won't be finding this at Krispy Kreme anytime soon.
Picture Source [wongnai]
Spicy Roasted Chicken Rice
Looks absolutely respectable and most closely resembles a proper thai meal. I'm sold.
Picture Source [wongnai]
China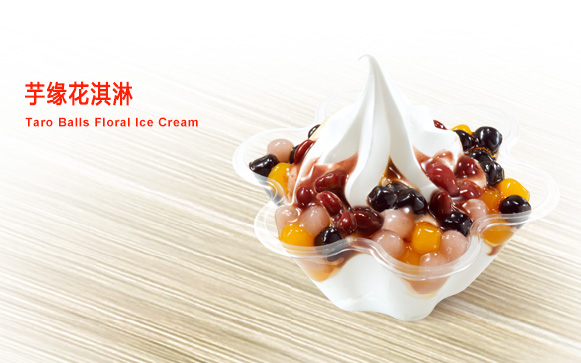 Taro Balls Floral Ice Cream
Soft serve ice cream topped off with fixings that we would normally find on shaved ice. Seems promising. Unfortunately I didn't get to try this last time I was in Shanghai. Bummer.
India
Paneer Zinger
Possibly the only vegan option on this list, but what an option! Fried paneer patty stuffed in between two pieces of bread with all the fixing. I've never had this but I can already tell its going to be one of my favorites.
Chile
Empanadas
Localized snack but offered at a KFC.
"American Salad"
If this is what the world thinks Americans consider a salad, then we are absolutely doomed. Obviously this is cole slaw…
Portugal 
Gelatin
Jello in a cup.
Australia
Salt & Vinegar Shaker Popcorn Chicken
In theory this shouldn't be all that bad given that there are chips in this exact same form.
North Korea
Just Kidding. KFC doesn't exist in the hermit kingdom. But they do have their own version of it that apparently is not all that bad.
Picture Source [rocketnews]
Sources [buzzhand] [yum brands] [businessweek]
Picture Sources [kfc]