On one of our latest posts, Foodamentals demonstrated a hemmorhage of creativity by spicing up bland airplane food with the oh-so-awesome deliciousness of flaming hot cheetos. It turns out Foodamentals had only scratched the surface of the holy potential of those ulcer inducing crunches and there is in fact, entire meals based on flaming hot Cheetos. Here are 9 of the very best.
Flaming Hot Cheetos Ramen

Source [statehornet]
The final product actually looks much better compared to the actual prep for this ramen dish. Crushed bits of flaming hot Cheetos are added during the "soaking" process to achieve the fluorescent red color in the photo. In the end, it looks completely magical/radioactive.
Flaming Hot Cheetos Crusted Chicken

Source [pinterest]
Fried chicken skin with a dusting of red hot cheetos. I can definitely get behind this.
Flaming Hot Cheetos Bacon and Mac

Source [yelp]
I can't decide what will come first. The taste of euphoria or high cholesterol.
Flaming Hot Cheetos Burrito

Source [junkfoodliving]
With creations like this, I don't get why Taco John's isn't more famous is beyond me. If they make flaming hot cheetos any more portable, I don't see any reason to get out of bed.
Hot Cheetos Sushi Roll

Source [pinterest]
Replace the sushi wrap with a dusting of crunchy hots. Japanese authenticity in American form.
Flaming Hot Cheetos Onion Rings

Source [pinterest]
Okay, this actually looks viable and should taste pretty awesome. Throw it in a burger or on a steak and you got magic.
Flaming Hot Cheetos Kale Salad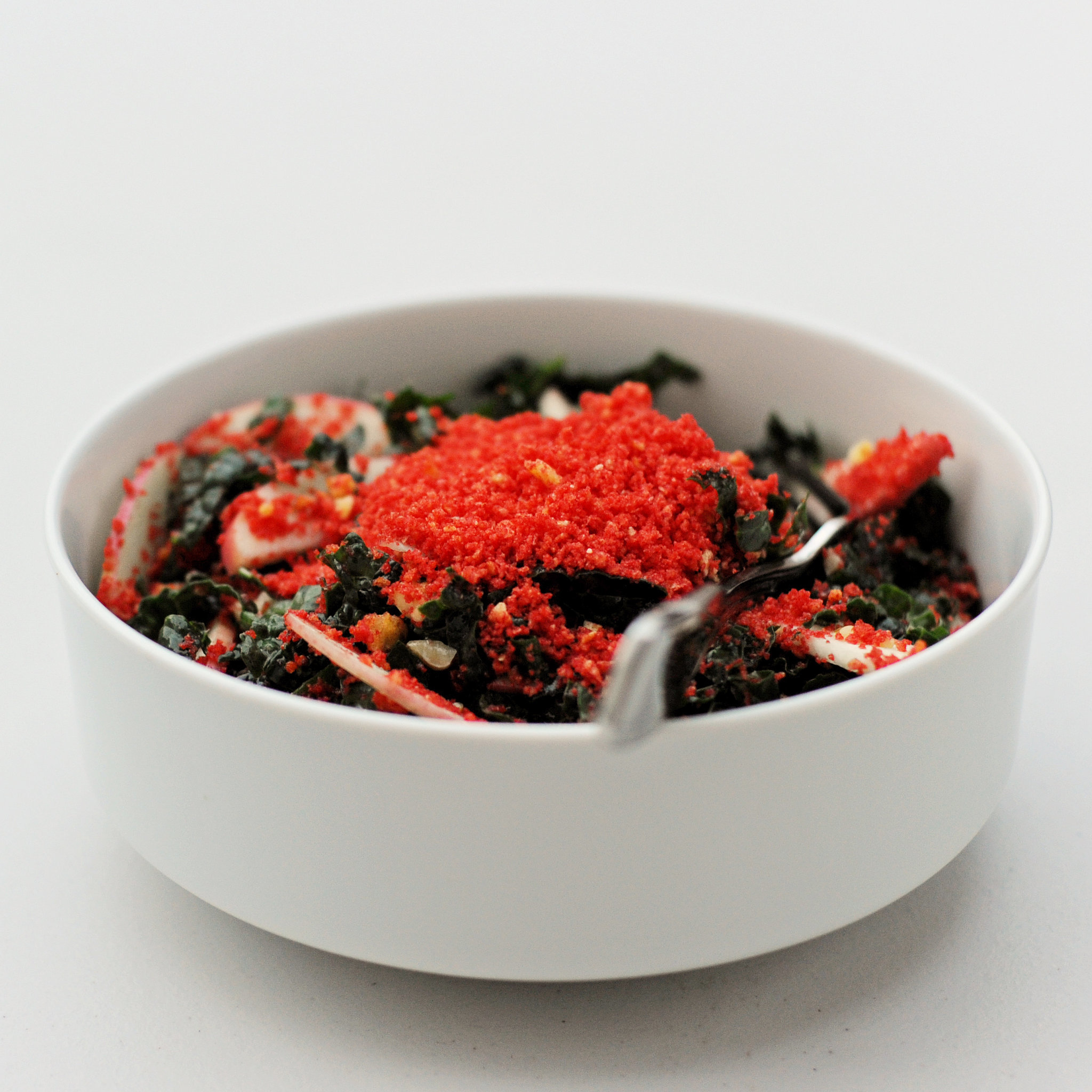 Source [POPSUGAR]
Crispy kale topped off with a brushing of Cheetos dust. Because if it has kale, it must be healthy. Recipe courtesy of yumsugar.com and would be complimentary to your Wednesday night yoga classes.
Flaming Hot Cheetos Chili Cheese Dog

Source [tumblr]
In this day and age, everyone deserves an ulcer.
Flaming Hot Cheetos Aneurism

Source [tumblr]
Flaming hot cheetos topped with nacho cheese and jalapenos. You have to be one lazy mf'er to not even take the Cheetos out of the bag. Good ole Midwestern American cuisine.