Across the internet, you'll see that people have this inexplicable tendency to rank things. We at Foodamentals are guilty of this as well. Here, here and here. But, hey, people like them. That's why they are continually being made. Although they are completely subjective, these lists do give the rest of us some motive to, you know, do shit.
China's 小紅書微博(Little Red book) microblog, recently put together a list of the top 11 snacks all across the world. We aren't talking about chocolate chip cookies or Pumpkin spice Oreos, rather, these are custom high end desserts that are only available at your local mall kiosk. Truly high end.  However, given that this list is Chinese, there is a pretty deep skew towards mainly Asian desserts with some Western influences here and there. So with that, let us take a look!
10

. Sugar & Spice Nougat 糖村 (Taiwan)
Website http://www.sugar.com.tw/tw
Picture Source [blogspot] By far, the most surprising addition to the list. Even the Taiwanese media had a field day with this as the nougats inclusion was a surprise "victory" over the much more well known Taiwanese favorite, pineapple cakes. These French inspired little milk nougats are packed with Californian almonds. Chewy and texture and slightly sweet, I highly recommend picking up some of these at the DFS at Taiwan-Taoyuan International Airport
9

. MarketO Real Brownies (Korea)
Website http://confectionery.themarketo.com/product/real.asp
Picture Source [ebay] Not to be confused with the B2B email marketing Marketo. These MarketO Real Brownies are ubiquitous around Korea and readily available at supermarkets and convenience stores. MarketO Real Brownies are mini sized brownies that are beloved across Asia. Apparently people easily buy 3 or 4 boxes at a time, completely throwing any diabetic concerns to the wind.  Peep the video above to see how crazy the Japanese get about these brownies.
8

. Potato Farm Jaga Pokkuru カルビー (Japan)
Website http://www.calbee.co.jp/
Picture Source [pchome] A Calbee product that is marketed as originating from Hokkaido, these are basically vacuumed sealed "fries." Probably a better description would be a potato chip in fry format, these type of snacks are uber popular all across Asia.
7

. Tokyo Banana Caramel Custard Cream 東京ばな奈 (Japan)
Website http://www.tokyobanana.jp
Picture Source [shiokjapan.com]
Nifty banana shaped snacks from Japan. Comes in giraffe, leopard and many other cutesy forms that Asians really love.
6

. Godiva Chocolate (United States)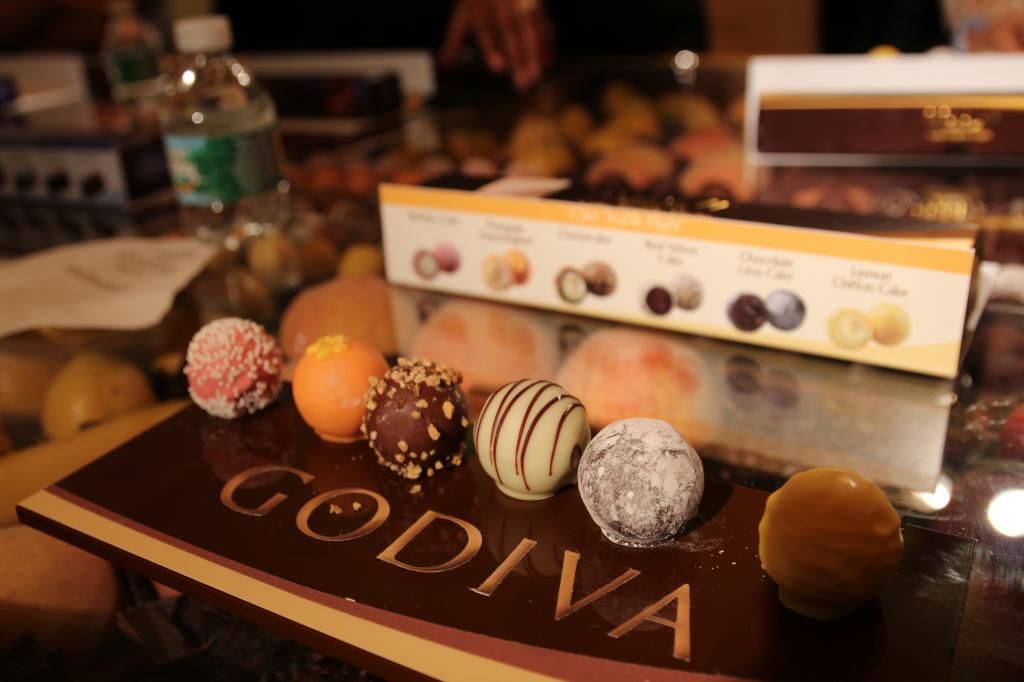 Website http://www.godiva.com
Picture Source [kitchenknifeforums]
Well, anyone living in the United States should be very familiar with these guys. Honestly, every time I get a box of these chocolates I just end up re-gifting it for the following Christmas season.
5

. Star Lollipop (United States)
Website http://www.vintageconfections.com
Picture Source [ubc.ca]
I honestly have never heard of this despite living in the United States. Anyone care to comment? Could be one of those things akin to how Budweiser is seen as a high end beer in certain Asian countries.
4

. Shiroi's White Chocolate Langue De Chat 白い恋人 (Japan)
Website http://www.ishiya.co.jp/
Picture Source [wikipedia] [sapporo-yakei]
Not just a cookie and not just white chocolate, but the delicious mixture of the two forms this awesome Japanese delight. From the description, Langue De Chat is two pieces of simple baked white cookies that sandwiches a slab of white chocolate. This stuff is not a flash in the pan as its been around for over 30 years, geezus!
3

. Jenny Bakery Cookies (Hong Kong)
Website http://www.jennybakery.com/
Picture Source [wordpress]
Unbeknownst to me, simple butter cookies are uber popular in Hong Kong. Jenny's Bakery has been around for less than a decade, but people will line up around the block for hours on end just to buy a box of these simple butter cookies. The popularity of these cookies have spawned an underworld in which people are reselling these cookies like they are Beyonce concert tickets. For more on that, check out this article(with video).
2

. Laduree Macarons (France)
Website http://www.laduree.com
Picture Source [flickr]
Laduree needs no introduction. This shop (arguable) single handedly created the buzz that made Macarons into one of the hottest food items around the world. However, given that its so well known around the world, the fact that it comes in at number 2 is questionable.
1

. Royce Raw Chocolate (Japan)
Website http://royceconfectusa.com/
Picture Source [royce]
Royce is a Japanese candy brand that spans across the globe. The chocolate shops are extremely popular in Asia and people clamor for these things like they are hot cakes.