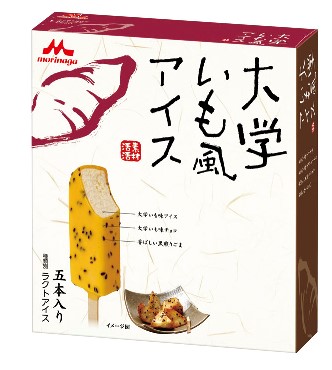 Seems like the Japanese are up to their old kooky(yet oh-so-amazing) food tricks once again. Morinaga Milk Industry, makers of widely distributed milk and ice cream products in Japan have just pushed out a press release on their upcoming "University of Potato" ice cream bars. Not sure why Google translate decided to call it "University of Potato" when its obvious this potato is only reading at an elementary school level. But I dress…
Wikipedia refers to the University of Potato as simply a "China potato," or rather yet, a spud grown in China.  If you have ever gone to a Korean restaurant and they serve these brownish potatoes as part of the banchan offering, then you know what University of Potato is referring to. Check the video below to see what I'm talking about. Full disclaimer, I can't endorse the soundtrack for this video, but thats where the mute button comes into play.
The ice bar is suppose to have a rich and deep potato taste with sprinklings of chocolate and black roasted sesame flavoring for added effect. I can't really imagine what its going to taste like since I never thought of making potatoes into ice cream. But I guess with yams and sweet potatoes, it would totally make sure.
Official release date is on August 31st everywhere in Japan. Pretty good odds that this is not coming to the United States anytime soon, but hey, who knows.
Source [entabe.jp] [morinagamilk] Image [exblog]