THA few years ago, we saw a huge explosion in the number of soft serve ice cream joints open up across the US. In mostly predominantly Asian areas such as Los Angeles, New York and San Francisco, you couldn't go a block without seeing a Pinkberry, Red Mango or some other knock off brand, setting up shop.
In Hokkaido, the soft serve ice cream reigns supreme and is renowned all across Asia for its creaminess. Locals swear by the fact that the Hokkaido milk is denser and therefore more suitable for ice cream making. Now, its not that uncommon to see your local 7-Eleven(in Asia) selling "in season" Hokkaido soft serve with huge swarths of people lining up to get a taste. None the less, the dazzling array of soft serves that exist in Japan is simply mind boggling. In Japan, vanilla flavor is for the uninitiated, whereas these 15 are for the badasses that exist in every single one of us.
Garlic Soft Serve(行者にんにくソフト) – Saitama
At first glance, this cone looks like its sprinkled with matcha powder. But no, in fact, that green stuff is actually what is known as ascetic garlic, a plant based seasoning that I don't think I have ever seen before at 99 Ranch. Internet commentators have said that the garlic smell is not overbearing and you can barely taste it as the vanilla soft serve takes center stage.  Just don't spill the garlic in your car as one Japanese netizen discovered. Apparently the smell gets into the upholstery and pretty much ruins any future date you may have.
Store: 道の駅あらかわ
Address: 秩父市荒川日野538-1
Tel: 0494-54-0022
Oyster Roast(カキフライソフト) – Okayama
Renowned for its oysters, the town of Okayama is known for its delicious okonomiyaki. Not content with just having boring ole soft serve, locals have combined their two food passions into one heaping monstrosity. Vanilla ice cream topped off with two fried oysters and sashimi soy sauce, this is one combo that people in Japan swear by.
Store: カキフライソフト
Address: 岡山県備前市日生町日生801-4
Tel: 0869-72-3655
Kelp Soft Serve(昆布ソフト) – Hokkaido
Pay attention to that spoon!
Hokkaido is known for its fantastic seafood, so its no surprise that this soft serve is topped off with sprinkling of kelp powder. The spoon in the photo is, surprise surprise, actual dried kelp.  Slightly salty, but also creamy sweet, locals who have tried it swear by its creamy goodness.
Store: 北海道昆布館
Address: 北海道 亀田郡七飯町 字峠下32-1
Tel: +81-138-66-2000
Udon Soft Serve(かまたまソフト) – Kagawa
Looks pretty cool to me. Even with the spring onions that is garnished on top of the ice cream makes this look like a legitimate noodle treat. In a nutshell, the udon soft serve is standard vanilla soft serve but squeezed out through a thinner tip. Some brave adventurers have upped the authenticity by adding soy sauce onto it.
Store: しょうゆ豆本舗×浪花堂餅店
Address: 香川県 仲多度郡琴平町 811
Tel: 0877-75-3788
Miso Soft Serve – Nagano
Described as slightly salty, soy bean flavored and "mouth filling," the miso soft serve found on Suyakame/すや亀 street in Nagano is a harmonious marriage between miso and vanilla. Not quite sure why "mouth filling" is considered a good thing, but apparently that is a thing in Japan. And yes, this Miso soft serve is very mouth filling. In fact, the most mouth filling of all the flavors.
Store: すや亀 善光寺店
Address: 380-0851 長野市元善町仁王門北
Tel: 026-237-2239
Lotus Root Soft Serve(れんこんソフト) – Aichi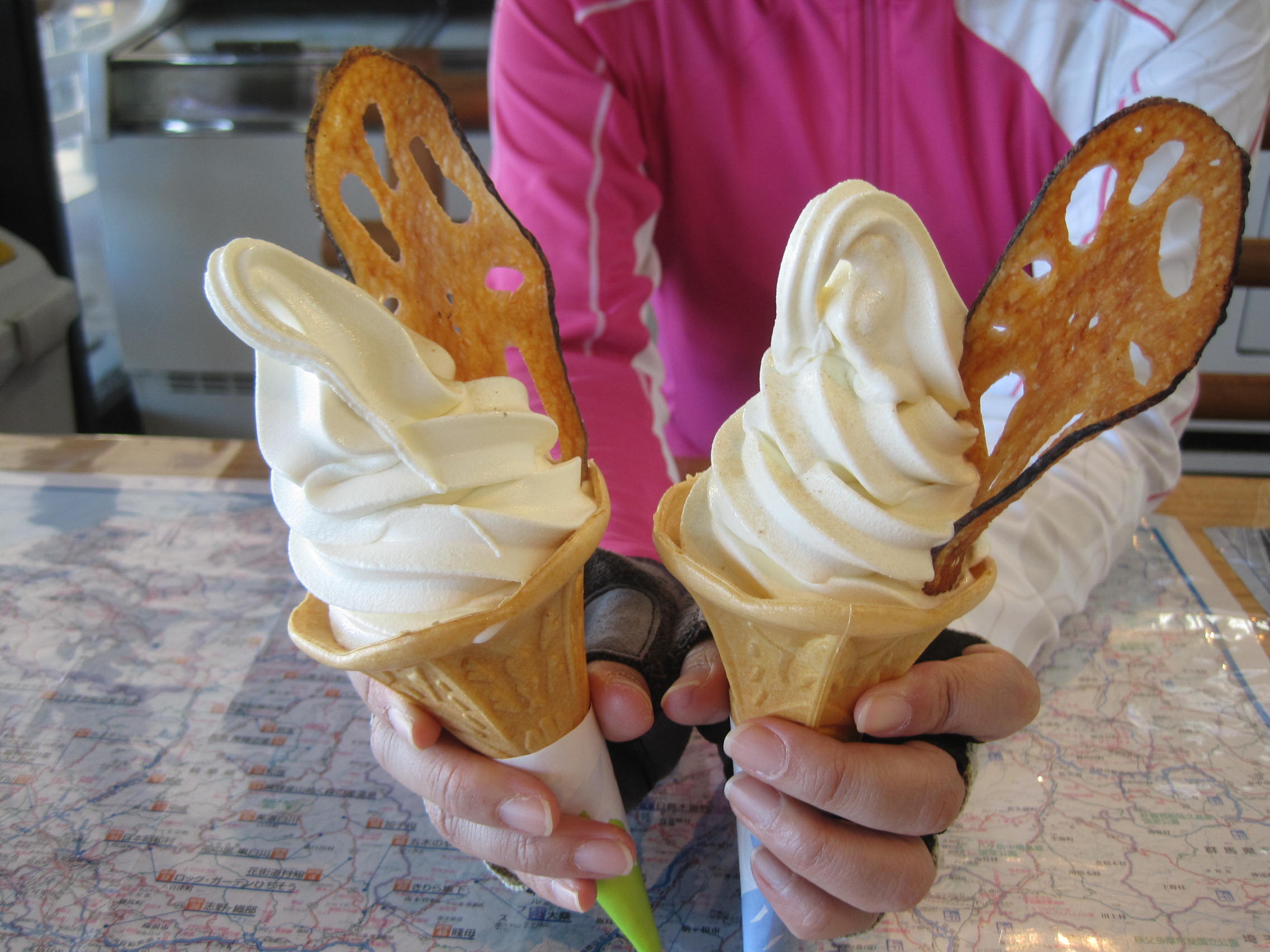 Rich in milk flavor, the lotus root soft serve is accompanied by lotus root chip making this probably the most fashionable soft serve on this list.  The taste is gentle and is reminiscent of soy beans mixed with heavy milk. Combined together to form an addictive team that will assault your taste buds and your wallet.
Store: Gotochi Softcream 01
Address: 愛知県犬山市大字犬山字西古券15番地
Tel:0568-62-2244
Soy Sauce Soft Serve(しょうゆソフト) – Chiba
The soy sauce soft serve is offered at the Yamasa soy sauce factory tour in Chiba. Described as "biting into a sweet soy sauce rice cracker," its not something I am able to comprehend. I highly doubt I can stroll into an Applebee's and request a sweet soy sauce rice cracker appetizer platter.  However, commenters did reveal that rather than the anticipated saltiness of the soy sauce, it was much sweeter than they thought.
You can make a free booking at Yamasa's website located here.
Store: ヤマサしょうゆ工場見学センター
Address: 288-0037 千葉県銚子市北小川町2570
Tel: 0479-22-9809
Shrimp Soft Serve(えびソフト) – Miyazaki
People who have tried this flavor mention that they anticipated licking into a fish taste/smell. Luckily, it doesn't come with any of that but it does remind people more of shrimp chips, but in soft serve form.
Store: 道の駅フェニックス
Address: 宮崎県 宮崎市 大字内海字三池381-1
Tel: 0985-65-2773
Ponzu Soft Serve(ポン酢ソフト) – Okayama
Ponzu is a citrus-based sauce commonly used in Japanese cuisine. It is tart, with a thin, watery consistency and a dark brown color. For this soft serve, it is described as slightly brown(makes sense) with over 100 years of history. Let's see if this generation of kids will allow it to survive 100 more years. Someone on the Tablelog website likened it to eating cheesecake. I'll be the judge of that… some day.
Store: 鷹取醤油
Address: 岡山県 備前市 香登本 887
Tel: +81-869-66-9033
Red Demon(赤鬼ソフト) – Oita
People on the internet have commented on whether the red demon soft serve is poisonous or not. Frankly they aren't far off as the red is derived from spicy red pepper, which honors the Hells of Beppu otherwise known as the Blood Hot Springs in the Oita Prefecture.
Store: かまど茶屋
Address: 大分県 別府市 御幸 5組-2 かまど地獄内
Tel: +81-977-66-0178
Tofu Skin Soft Serve (

生ゆばソフト) 

– Tochigi
Yes, it doesn't sounds that appetizing, till you realize that tofu doesn't really have a flavor to it. So keeping that in mind, its actually not as gross as it may originally sound.  Since tofu is made of soy beans and soy beans are considered a health food in Asia, then by that logic, this must be the healthiest soft serve around. So go ahead, have 5 of these puppies.
Store: 明智平パノラマレストハウス
Address: 栃木県 日光市 細尾町 深沢709
Tel: +81-288-55-0331
Onsen Hot Springs Egg Soft Serve(溫泉たまごソフト) – Gunma
Although I have never tried this(but damn, I really want to) I would imagine the onsen egg soft serve to taste like cross between a pound cake and vanilla ice cream.  The fact that its made from hot springs eggs makes this soft serve much denser and in fact, reminds people more of a custard rather than ice cream.
Store: 本多みやげ店
Address: 群馬県 吾妻郡草津町 草津 110番地
Tel: +81-279-88-2155
Cuttlefish Ink Soft Serve(イカスミソフト) – Tottori
Here in the western world, it would be more apt to find squid ink in a bowl of pasta instead of in an ice cream cone. Described as a delicious mix of vanilla with a slightly ink fragrance, the squid ink soft serve is unique for its odd black coloring.  Characterized as not having a fish smell or texture, this seafood and milk soft serve is pretty dope looking and can be found on many posts on Instagram.
Store: 浦富海岸島めぐり遊覧船のりば食堂 あじろや
Address: 鳥取県 岩美郡岩美町 大谷 2182 浦富海岸島めぐり遊覧船のりば食堂内
Tel: +81-857-73-1212
Tomato Soft Serve(

トマトソフト) 

– Ehime
Locally sourced Momotaro tomatos from Ehime are used to craft this sweet soft serve with a heavy aroma of tomatoes. Unlike the US where we mostly treat tomatoes as a vegetable, in Asia, tomatoes are often seen more as a fruit and are revered for their sweetness. Thats why a tomato based soft serve makes perfect sense. The flavor is described as more vanilla with an elegant tomato based flavor that spreads evenly through the mouth. I can't tell if thats the description of some softcore porno or ice cream, but whatever it is, I like it.
Store: やすらぎの宿でんこ
Address: 愛媛県上浮穴郡久万高原町入野1363-1
Tel: +0892-21-0092
Wasabi Soft Serve(わさびソフト) – Shizuoka
Vanilla ice cream topped with a dabble of wasabi from the Shizuoka region. According to people who have tried this flavor, the spicy/hot flavor of the wasabi hits you right after the sweet flavor of the vanilla ice cream. If there was ever a ying yang flavor, this combination would characterize that perfectly.