Harajuku, Tokyo, Japan
In what I can only described as falling into the "anything can be bought" category,  the world famous, Kaiju fighting, man of ultraness – Ultraman has recently unveiled his collaboration with Nestle Japan.
Revelers of the old school Ultraman television show can live out their kaiju fantasies with the new Ultraman Cafe in Harajuku, Tokyo. In partnership with Nescafe, a temporary Ultraman themed cafe will be open to the public with plenty of prizes, food and drinks that cater to the monster fighting superhero inside of all of you.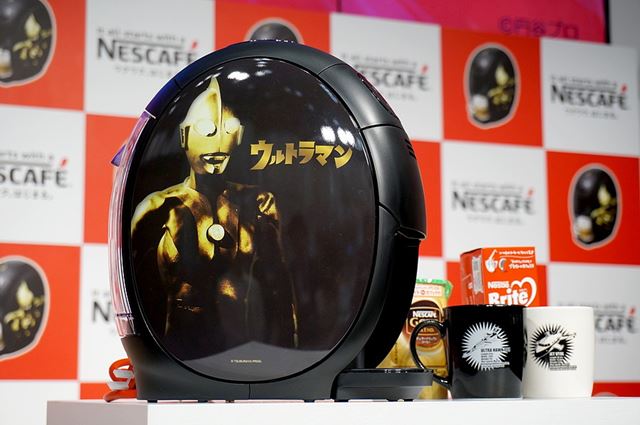 Not only is Ultraman now hawking a cafe, but apparently he has his own branded Keurig-type of coffee machine that can only be described as special edition. In one promotional videos, his old nemesis are seen working things out over the sheer joy of using his coffee machine. Now if only the same can be applied
Cafe goers can also take part in a series of rock-paper-scissors tournament with different Ultraman(s) on different dates. For instance, on May 5th, you can show off your hand whipping skills with the original Ultraman whereas on on May 7th, Ultraman Taro will be in attendance to hand spar you. Check out the official nestle page for more info.
Nescafe x Ultraman Collaboration Cafe
ネスカフェ × ウルトラマン コラボカフェ
Address: Japan, 〒150-0001 Tokyo, Shibuya, 神宮前1-22-8 (map)
Duration: April 28 – May 8, 2016
Hours: 11am – 9pm
Source [retrip] [nescafe] [dengenki]